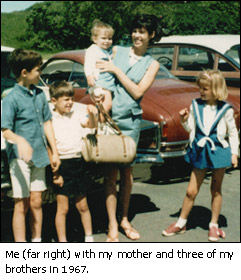 My name is Polly Wickstrom, and I live in Valparaiso, Indiana. I have been married to my wonderful husband and best friend, Jim, for the past 34 years. Jim and I are the very proud parents of three grown children, ages 27, 29, and 31, living far and wide in Seattle, Washington, Malibu, California, and Istanbul, Turkey. We also have one fantastic son-in-law, and we are absolutely over the moon and completely in love with our incredibly adorable 21-month-old grandson!

I grew up as the only girl in a family of five brothers. Born in Tulsa, Oklahoma, our family later moved to Edina, Minnesota. Minnesota is one of the most beautiful places I've ever visited (or lived), and I have fond childhood memories of taking long bike rides around one of the many lakes within biking distance of our home, enjoying family picnics in beautiful green parks, and, in the winters, going ice-skating at the skating rink that was right across the street from our home.

We left Minnesota in 1969 and moved to Arlington Heights, Illinois, which is a northwest suburb of Chicago. From 1978 to 1982, I attended Illinois State University, where I met my husband and received a B.S. in Elementary Education.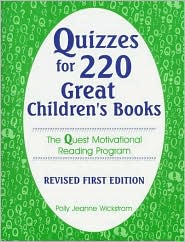 After graduating from college, I received my first teaching position teaching third grade at Fisher Grade School in Fisher, Illinois, a small town just outside Champaign, Illinois. I loved teaching third grade, but I was engaged to be married and after the school year was over, I moved to Valparaiso, Indiana. In Indiana, I was fortunate enough to find a teaching position as a sixth grade language arts teacher in the very same district my soon-to-be husband taught in. I enjoyed teaching language arts for two years, but after our first child was born, I left teaching to become a stay-at-home mom.

Shortly after our first child was born, I reorganized and extended a set of resources I had developed for my sixth grade language arts classes. That book, Quizzes for 220 Great Children's Books, was published in 1987. Several years later, my husband Jim and I co-authored a second book entitled More Quizzes for Great Children's Books. Both books were published by Libraries Unlimited. The first book is still on the market (after all these years!) but the second book is no longer in print.

In 1998, I became interested in web design. A friend got me started in learning to code my own HTML. After that, I furthered my own skills in web development. Through personal reading and by taking online courses, I extended and deepened my knowledge of HTML, began learning about CSS, Javascript, MySQL, and PHP, and I learned to use Photoshop, Illustrator, Dreamweaver, and Flash. For a few years, I worked from home as a web designer. At that time, I maintained a website called Tomato Tree Designs, which offered shareware web templates and Flash tutorials. I was honored to have some of my work with Flash included on the resource CD for the book, Flash MX for Dummies by Gurdy Leete and Ellen Finkelstein.

When our youngest child started high school, I returned to teaching for two more years. My first year back, I worked as the school media specialist and technology instructor at Jane Ball Elementary School in Cedar Lake, Indiana. That year, I wrote and won a Reading Is Fundamental grant, which provided funding for three very fun and exciting theme-based book giveaways at our school. At each book giveaway, every child in the school was able to pick out a book to take home and keep. The next year, I taught seventh and eigth grade reading at Willowcreek Middle School in Portage, Indiana. That year, I sponsored a school ezine called Braveheart, and I wrote and won a Foundation Grant, which was used to purchase two new SRA Reading Laboratories to be used in a new sixth grade reading program.

In addition to a major in Elementary Education, I also have Endorsements in both Reading and Language Arts. This means that in addition to being licensed to teach grades 1-6, I am also a certified Reading Specialist, and I am licensed to teach reading, English, and language arts in grades 1-9.

On September 1, 2008, I launched AllQuizzes.Net and was very pleased with its reception. Eight years later, on September 1, 2016, I began rebuilding the site as BrightQuizzes.Com. At BrightQuizzes.Com, all available quizzes are formatted so that they are accessible on the Apple iPad as well as on laptops, desktops, and many other devices.

I specialize in providing high-quality book section quizzes for popular and award-winning children's books. At BrightQuizzes.Com, I strive to provide quizzes for books that reflect high literary quality and diversity so that every child can have the opportunity to succeed and to see herself in a book that she will love.

I have a passion for children's literature, and I hope to one day write a middle grade or young adult novel.

Thank you for reading through this!